INJECTION MOLDING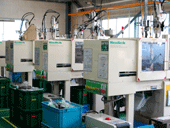 Inquiries of prototype and mass production of injection-molded retainers are welcome.
Please feel free to contact us for quotation, also for consistent service from mold design, mold fabrication to mass production, including pure water ultrasonic cleaning in a clean room, if necessary. Thermoplastic, Prepropylene (PP), Polyethylene (PE), Engineering plastics, Polyamide (PA), Polyacetal (POM), Super engineering plastics such as PPS, PEEK, ETFE, etc. are available.
Inquiry for insert molded thick products with few sink marks and voids is also available.

 Examples
| | | | | |
| --- | --- | --- | --- | --- |
| | | | | |
| Extremely small precision parts | Super Engineering Plastic | Mass-produced | Insert molding | Slide core molding |

 Major Facility of Domestic Molding Plant
| | | | | |
| --- | --- | --- | --- | --- |
| | | | | |
| Injection Molding Machine | Hot-air Drier | Non-contact Measuring Device | Humidity Conditioner | Ultrasonic Washer |

 Material
All purpose plastic
(PE) Polyethylene
(PP) Polypropylene
All purpose Engineering plastic
(PA66) Polyamide
(PA46) Polyamide
(POM) Polyacetal
(PBT) Polybutylene terephthalate
Super Engineering plastic
(PPS) Polyphenylene sulphide
(PEEK) Polyether etherketone
(PAI) Polyamide-imide
(ETFE) Ethylene Tetrafluoroethylene copolymer
---