PEEK RESIN BEARINGS C-SERIES
HEAT RESISTANCE・CHEMICAL RESISTANCE・FATIGUE RESISTANCE
PEEK (polyether ether ketone) resin is a super engineering plastic with excellent heat resistance, chemical resistance, fatigue resistance, abrasion resistance and well balanced. Long life can be expected as resin bearings.
It is also excellent in properties such as steam resistance, radiation resistance, flame retardancy, nonmagnetic, electrical insulation.
PEEK (natural grade) bearing inner and outer rings are machined finish. Both PEEK, ETFE and PPS resin are injection molded in the cage. Balls are alumina ceramic balls or stainless steel balls (SUS 316 / SUS 304).
PEEK BEARING STANDARD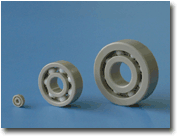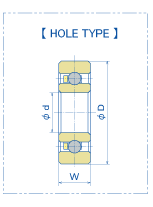 ※Allowable Load is 300 R.P.M and endurance is consecutive 1 million revolutions under dry condition (without grease).
※Difference of ETFE(Fluorine resin) cage and PEEK(PPS) cage:
ETFE cage has smaller coefficient of friction, and PEEK cage has excellent mechanical strength.
HEXAGON SCREW TYPE BEARING  N E W
PN
Outer Diameter
D
Width
W
Screw Thread
M
L
t
Hexagon socket
G
Allowable Load
Material
N
kgf
Inner ring
Cage
Balls
C130GM5-PEEKPKA
13
4.5
M5
8
0.5
4
19.6
2
PEEK
PEEK
Ceramic
Please do not hesitate to make any request to our Venture Buisiness Division for calalogue, inquiry, quotation and order of our products.
---